History
Igbere stands at the threshold of history. And it is a two way brink, oscillating between the past and the future. That past ought to elicit pride from indigenes who owe their town to very brave forebears that brooked no injustice and evil deeds.


Nyama Country Home

Stubbornly perched atop a tree on the way to Ibinaukwu, one of the thirteen communities amalgamating into Igbere, is a weather beaten flag, which evidently had survived strong wind and rain, yet wrestled free from the intimidating leaves to pronounce Biafra, the defunct republic which caved in 30 months after its proponents fought with bare hands to keep it alive. Perhaps that indestructible flag is unwittingly symbolic of Igbere, a town in today's Bende local council of Abia State with a never-say –die spirit and history. We shall return to that proud past shortly.
New London
But there is yet a visible stride into a historic future, one that threatens to thrust the town as, perhaps, the fastest developing space within the state. The people are not resting on their oars, basking in past glory. They have strived to keep pace with time. From the window of Wisdom Orientation Guest House at the eastern end of Igbere, a visitor behoves lush green scenery, stretching into the undulating topography of a place dotted with architectural masterpieces plastered with sparkling paints that smile at you. Whether the elegant buildings are at the hilly streets of Okafia and Umusi or the relative flat lands of Amaukwu and Eziama villages, Igbere has rightly earned the sobriquet of 'New London'. It has displaced Abiriba, immediate neighbour to the east which had, over the years, prided itself as 'Small London".

If you visit both towns today, you will be in no doubt about which holds the mantle. The seeming sad fact is that both have lost the virginity of typical African villages and have been consumed with rampaging modernity such as turn foot paths of yore into beautiful streets adorned with smooth asphalt surfacing, bushes into mansions, trees into electric poles and telecommunication masts. Igbere is no longer a village. It is evolving into a city. That is the irony of development. Something must give. New and good things always sprout from the ashes of old ones.
As a visitor enters Bende local Government Area from Umuahia end, makes a right turn at Uzuakoli, does a few kilometres, hits Isiegbu in Ozuitem, turns left, at the T junction, a final journey into the ancient town begins.
The beginning
A town founded 'not later than 1267' cannot but be ancient. No less a personality than 80-year-old Elder E.E. Ukaegbu, a legal practitioner and very prominent indigene of the town makes the assertion after his painstaking research gave birth to a booklet captioned The History of Igbere, published in 1974 and revised in 2008. Ukaegbu , an Aba based lawyer, and possibly the first parliamentarian to win election as an independent candidate in old Eastern Nigeria, also typifies the stoicism and strong spirit of the Igbere man. He spoke to Sunday Sun in his country home in Amaofufe generally pronounced 'Ámaufufu', another of the 13 villages.
"The average Igbere man knows that a man called Ebiri Okomoko was the founder of Igbere. He was a great warrior. Farmer and hunter whose place of origin has been traced to Andoni, very close to the Atlantic Ocean . He was said to have sojourned in several places including Okomoko now in Etche Local council of Rivers State," said Elder Ukaegbu.

The story, as this newspaper found out, was that Ebiri did not head for Igbere at inception. He had moved from Etche to a few places before making a fairly long stop over at Ajata Ibeku, near Umuahia. There he met Uduma-Eze and Onyerubi, both of whom later founded Ohafia and Abam. He also sojourned at Oroni forest where he met Egbebu who later founded Edda.
They parted ways, for reasons researchers have not yet revealed ,and Okomoko, adventurous as ever, hit Eke forest and finally settled there. Even today, with its rampaging modernity and rapid development, no one has dared destroy Eke-Igbere which still inspires awe and reverence from the average Igbere man. If a disputing duo went to Eke forest and any swore falsely, the erring person is said to be inviting sudden and untimely death. If an Igbere man is wounded in a fight or even an accident, such as exposes his blood, it only takes liquid from leaves of any tree from the forest for the gushing blood to cease. Such is the real or perceived power of the Eke forest, named after the market day of Okomoko's arrival. He arrived on an Eke market day, one of the four days that make a typical Igbo calendar week.

But the story of Igbere's origin has just begun. Okomoko's settlement was not the end of the matter. It is the end of the early phase. He passed away shortly after arrival. He did not live to see and take part in the battle royale that culminated into the naming of Igbere.
There is, therefore, a slight but negligible historical controversy over the true founder of the town. The question is this; was Igbere founded by Okomoko who led the first settlers or was it founded by his son Ebiri, who led the battle to crush a great wave of intrepid warriors who ravaged the land? Had they subdued the people there would have been no Igbere, at least by the name it is now known. Historians and later day researchers may find a mouthful to chew there.

But the name Igbere is rooted in a war of survival.
In those days there lived a certain man named Ota Obom. War was his life. And he had fought and conquered every community within the vicinity in pursuit of slaves. He had active support of Arochukwu(Aro Oke Igbo) known for pervasive slave trading. But Ota Obom met his waterloo in Igbere. The story of his beheading and the inability of the slave traders to enter the town make it one of the few in Igboland which effectively repelled slave traders and earned the name Igbo Eru or Igbo Ere.
"This is one of the few towns where you cannot find Aro settlements'' says Elder Ukaegbu, smiling proudly. "Our forbears never allowed slave traders to get into Igbere''

At the killing of Ota Obom by the gallant Igbere warriors who, going by what Eze Job Ukandu of Amaukwu told Sunday Sun, were aided by great seers at Eke forest, Ota Obom's warriors dispersed in confusion and the Aro slave traders became frustrated. It must have been with clenched teeth of annoyance and the sight of an impregnable town that they pronounced it Igbo Eru meaning 'the place which Aro Oke Igbos could not reach and capture' or Igbo Ere [the place where Igbo could not sell]. Both expressions gave birth to Igbere. Somehow, the average Igbere man has retained the fierce quest for freedom and the independence carried from his forbears. It is believed that Ebiri never lost any battle. That hitherto invincible Ota Obom, leader of rampaging slave traders met his end in the town, marking the effective halt of slave trading in that area, remains a source of pride to every Igbere indigene. The victory did not come cheap. It came with a price, one which also endows indigenes with patience. The details may be cumbersome but the drowning of Ochi, a beautiful damsel whose father, Awalu, led one of the villages at the forefront of the battle, was a grievous price. In fact the Ebele river where she drowned was made to dry up. Today it is a market place.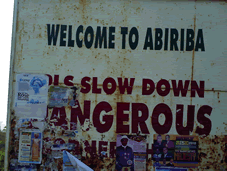 How Igbere is governed
The internal government in the town, as in most others in old Bende division run on three planks, namely the traditional institution, the age grade system and the general town union. But the traditional stool is strong in the town and had also posed a challenge, now apparently contained with the reign of one of their sons as the immediate past civilian Governor of Abia State. Prior to the emergence of Chief Orji Uzo Kalu who hails from Umusi, as the helmsman in Abia State, Igbere had a challenge occasioned by tussle over the traditional head of the town. An old school headmaster named Ijioma Okocha from Okafia known to be a strong Christian sat on the throne as the first Ebiri (named after their forebear) of the entire Igbere. But Amaukwu people who claim to be the head and to whom Elder Ukaegbu conceded that headship in his chat with Sunday Sun, cried foul insisting that Okocha had used the privilege of education to usurp their position.

They were said to have held their peace given that Okocha's mother hails from Amaukwu. Okocha had a stamp of authority from the Eastern Nigerian administration led by the late Chief Michael Okpara. Igbere knew him as the first Ebiri until the inception of the military. The men in khaki made new ground rules wherein they insisted that people sitting on the traditional stools must be well grounded in culture, including the pouring of libation and such other cultural nuances that tended to contradict Okocha's Christian virtues. The man promptly relinquished the position, insisting that his faith will not be killed on the altar of traditional institution. He chose to go where his heart beckoned and thus gave up the throne. That was how Eze Sampson Uwaka Ukaegbu came into the picture as Ebiri 11 of Igbere. But Amaukwu people never gave up their contention to the throne. So when Eze Ukaegbu died in circumstances suggesting murder, his death further polarised the town. Such was the position when OUK as the former Governor is fondly called, emerged as the Governor.

The agitation for autonomous communities across the state provided a suiting panacea. Kalu's regime democratised that institution. He gave autonomy to every community which so desired. Thirteen of such communities came from Igbere and they all got recognised. Today the town has 13 traditional rulers. The tussle has thus ended, perhaps for good.
Unity in diversity
The emergence of 13 Ezes, did not diminish the legendary unity in the town. In spite of the autonomous communities the people have largely related as a group. Eze Eme O. Ogbu Ebele 1 of Umusi told Sunday Sun in his palace that even the traditional rulers have led by example in that respect. They have a body named Igbere council of traditional rulers where issues of common interest are discussed.
''We have always related as one. In that council we meet to discuss matters bordering on our development and general welfare'' says Ogbu who also represents Abia state in Emenite Company limited, Enugu.
His views were amply corroborated by Eze Okorie N Chukwu, a retired civil servant who sits on the traditional stool of Okafia autonomous community. He is Ekpuakomini of Okafia. He told the writer in his palace that the council meets monthly and leadership also rotates monthly.

''We rotate meeting venues and change chairmanship of the body with every meeting. If we meet in your palace, you will preside, the previous chairman will hand over to you that day,'' he said in the company of Chief O.N. Chukwu, President-General Igbere Welfare Union. The way things stand, it is evident that skirmishes over traditional stool in the land have been largely contained without doing incalculable harm to the town's unity. Today the expression ''IGBER RO OHU'' still retains its efficacy as one binding the entire town.
Trading
The Igbere man is a natural businessman whose entrepreneurial instinct is largely buoyed by his adventurous nature. Very early in their evolution the people always ventured out of their homestead. Long before the Nigerian civil war, Igbere people had trading posts in many places including Uzuakoli, Umuahia, Aba, Port Harcourt and parts of current Cross River State. But it was in Aba that the bulk of Igbere people lived.
''At the inception of the Aba women riot in 1929, some of them moved from Aba to Mbawsi'' explained Elder Ukaegbu, "that is why you still have a place named Igbere quarters till today in Mbawsi.''
But Igbere people as their counterparts in Old Bende have their business roots in Aba, from where the younger elements have moved to other towns in search of expansion and the proverbial greener pasture. Even at that the bulk of their people still reside in Aba. But they have travelled widely which is why a search on the internet throws up an Association of Igbere people in the United States who are currently contributing their quota to the town's development.

Education and enlightenment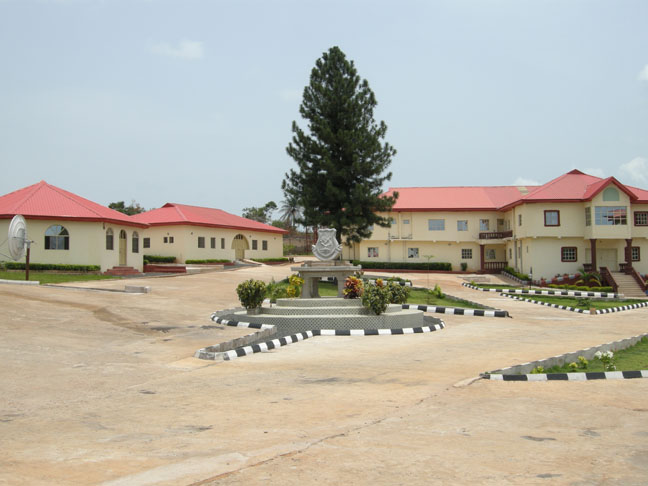 University of Igbere almost completed

There has tended to be an evidently erroneous impression about the educational standing of Bende people. They are presumed to have preferred business to education, except for Ohafia people. Again Elder Ukaegbu offers an explanation
''It is true that in the distant past Igbere, Alayi, Item, Abiriba did not embrace education but that has long changed. They have since come to terms with the importance of education and now go to school massively. Let me tell you what really happens and I will use Abiriba as an example. Even when an Abiriba man gets educated up to the PHD level, he will like to be independent and do business. So our people do go to school but they still do business''

Mrs (Elder) Ejimole Ijioma, whose husband, Professor B.I.C. Ijioma is the Deputy Vice Chancellor Abia State University told Sunday Sun that Igbere has long made up for their apparent late start in education. She is a Supervisory Principal; a new position in Abia education system. Reverend Onuoha O. Onuoha joined her in the home of Eze Jonah Ukandu and the trio tried to run a list of prominent Igbere indigenes who have distinguished themselves in various fields of endeavour.

Every one concedes that Chief (DR) Orji Uzor Kalu aka OUK remains the leading light and a very worthy ambassador of the town whose exploits have put Igbere on the global map, as it were. There are several others including Elder Mark Agu Ogwo, a former Head of Service in Abia, Professor Ogwo E Ogwo, a former vice chancellor of Abia State University, Professor Ama Nduka former Vice Chancellor of Federal University of Technology, Owerri, Justice Agbai Ikwechegh, former President Court of Appeal Benin, Professor Uwakwe Igbokwe of ABSU, Professor Emma Uwakwe of University of Nigeria, Nsukka. There are several others in the civil service, including Mr A.O. Odum, a retired permanent secretary, Chief I Onwubeke the permanent secretary in the IBB era who spearheaded the relocation of Federal Capital from Lagos to Abuja, Mr A C Obasi, a retired permanent secretary, Justice Onuoha A K Ogwe, Chief Ogwe K Ogwe, Barrister Chris Uche, a Senior Advocate of Nigeria, Justice Ijeoma Uche, first female judge in Abia, Barrister Solomon Akuma, a Senior Advocate of Nigeria, Elder (Mrs) Eunice Kalu, prominent female politician whose political imprint influenced her children including OUK, Nnana Uzor Kalu, proprietor of Valley View Hotel in Igbere, amongst countless other indigines of the town.

In the media Igbere has given Nigeria such men as Mazi Anyaogu Ukaonu, a pioneer television broadcaster who established Nigerian Television, Aba, and Pastor Dimgba Igwe who also pioneered the success story of Sun Newspaper group. Igbere also produced the first black Synod Clerk of the Presbyterian church in the person of Very Rev Nnana Eme, now deceased, as well as Rev. James Ukaegbu, one time moderator or head of the Presbyterian church.

The Presyterian church took the lead in evangelism in Igbere in the advent of Christianity largely on account of the activities of Church of Scotland Mission, which also brought education to most of Old Bende, thus making it the dominant church in that area.
Such prominent sons as OUK may have sought to reciprocate the good gestures of the CSM by erecting structures of worship for the church. On the way to OUK's house is a fairly large church whose signpost shows that Chief Orji Uzor Kalu is the construction firm's client. But OUK is not discriminatory given that in Okafia village he is also building an edifice for the Catholic Church in the area.
•Ukaegbu
Age grade system
Any commentary about Igbere and indeed most of Old Bende without a mention of age grade system will be grossly inadequate. It is the life wire of developmental strides, and it is as old as time. Igbere began with original seven villages namely Amaukwu, Eziama, Agbo, Umusi, Okafia, Ama Iyi and Ohumula and the age grade system is as old.
Eze Ogbonnaya Ogbu told Sunday Sun that Age Grade system is, a means of coalescion for people within a three or four year old bracket.

All indigenes belong to one of the 13 groups and actively serve for no less than 35 years before retiring in a ceremony known as Igbotonma, one with the potency of growing into a veritable tourist attraction in the Old Bende if the government or even the people decide to harmonise the activities and bring national and international attention to it.
Our sons in government
Igbere people agree that their sons have made a success of their political career. They have produced three state governors, two military and one civilian. Two members of the House of Representatives had come in tow as well as a past local government chairman.

Both Elder Ukaegbu and Eze Eme Ogbu admit that their sons have made them proud. They concede that the late Commodore Amadi Guy Ikwechegh, former military Administrator of former Imo State pioneered the provision of amenities in Igbere.
Ikwechegh, according to Eze Ogbu, did asphalt surfacing of some roads as well as bringing in electricity. But it was OUK that fast-tracked developmental strides in the town. They point at virtually all the roads now wearing asphalt surfacing, health centres done in partnership with the state authorities and scores of their sons whom Kalu empowered by facilitating their appointments or directly appointing them into positions of prominence. He is said to have also involved some of his kinsmen in running his vast business empire. They point at the National Youth Service Orientation camp and the annex of police zonal headquater in the state.
''We are proud of our sons in politics and we shall keep supporting them because they have not let us down'' said Eze Ogbu.
Some Historical Houses in Igbere

Iboko House at Ndieke, Amankalu Igbere